Testing tables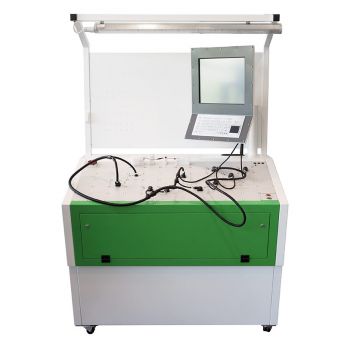 The table is designed to test the correctness of connectors connections. The construction of the table allows for a precise location of the sockets of the connectors and a quick change in case of changing the length of the wires.
The table can be easily reconfigured to test different wire harnessess.
Work with the table is instinctual and it does not require technical knowledge or manual skills.
High voltage testing tables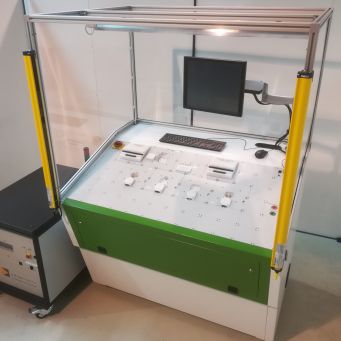 Tables equipped with a high voltage tester to 4 kV and 3 kV AC, with a safety curtain and an extra cover of the workstand.
Case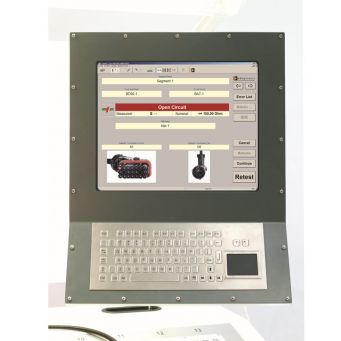 The case is delivered with the monitor and the keyboard. The monitor and the keyboard installation helps to conduct a faster test.
Accessories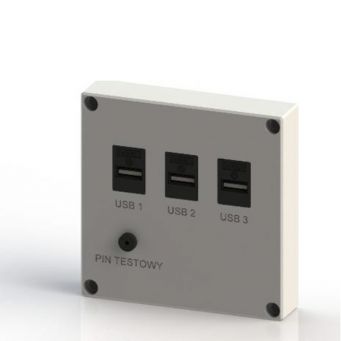 ...
Test blocks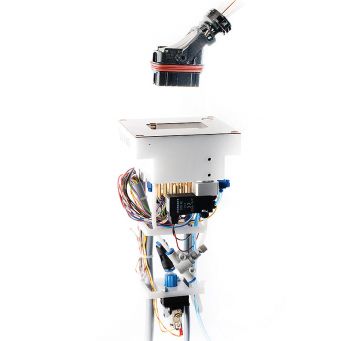 Equipped with resilent test needles and pneumatic locks, which are responsible for a correct mounting of the connector during the test.
A wire harness test is carried out on the driver by Adaptronik. A connector can be unclipped by pushing the button on the test block or releasing the harness.
Extra blocks extensions enable creating overpressure in the connector and measuring the pressure drop in the system, which makes possible to test the connector tightness.
The blocks are also equipped with test needles checking the transition in the harness, switch needles and pneumatic locks to press the connector correctly during the test. It is also possible to check the presence or the correctness of mounting the terminals locks (if they already exist).
Thanks to the built-in release button, it is possible to unclip a single connector without unclipping the whole harness.
Electric transition test conducted with the resilent test needle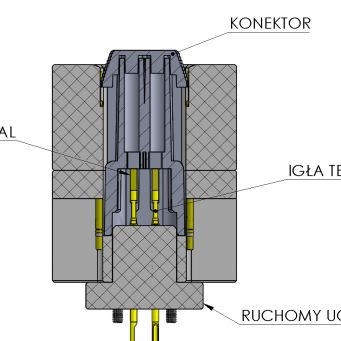 Thanks to the resilent test needles it is possible to detect electric transition in both male and female connectors.
Under the pressure of the terminals the needles bend giving a firm connection, and the test can be conducted. It is possible to place the needles in a special handle to regulate their height, thanks to which, with a correct arrangement, it is possible to detect incorrectly clipped terminals.
---
Detection of the elements of the connector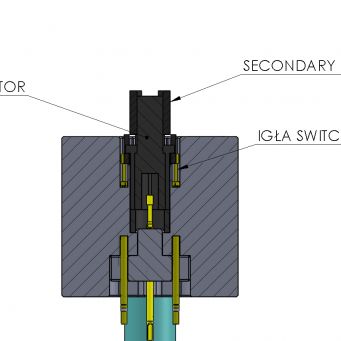 Detection of elements such as a secondary lock, a seal, etc. is performed by switch needles or microswitches.
---
Seal test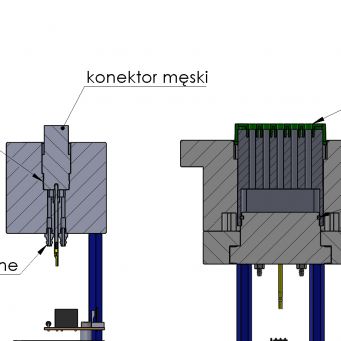 The blocks are equipped with extra testers which generate overpressure inside the block and examine its change. In a seal test the connector socket is tight for both male and female connectors.
---
Pushing out the terminals test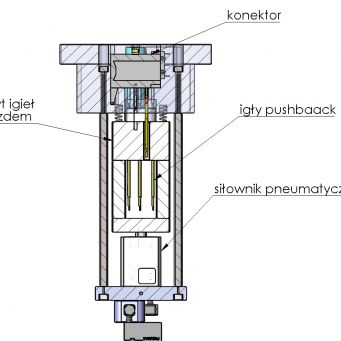 Using pushback needles in the blocks makes it possible to conduct the electrical test and the pushing out terminals test. It can be used only for female connectors.
The pushback needles are mounted in a handle with pneumatic drive. After inserting the connector into the socket, the socket is blocked and the needles are pushed to the connector, pushing out incorrectly clipped terminals.
---
Free wires tester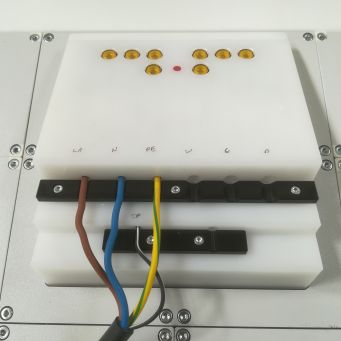 The tester is designed to check the electric transition in free wires.
---